We can concentrate more of our energy on watching the big boys play! Major League Baseball is in it's stretch run, and there's some great pennant and wildcard races right now. If you haven't been watching, then you should turn on some games, read up on ESPN online, or head on down to a game.
We are very fortunate to travel to some pretty awesome ballparks every year, and Friday we're going out to Denver to see the Rockies take on the Padres at Coors Field all weekend long. We're very aware that neither of these teams are in the hunt for a division title let alone a wild card spot, but we planned this trip in advance, and we've heard so many people tell us that Coors Field is an amazing place to take in a ballgame.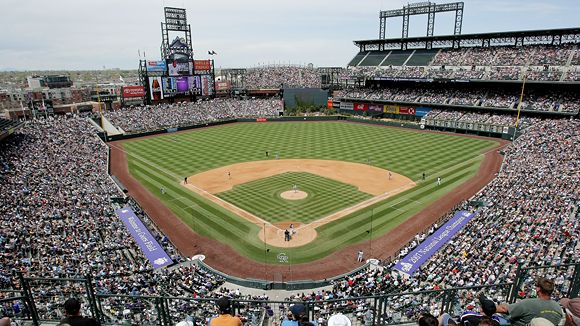 (Photo credit to ESPN).
Had we thought about the trip with the knowledge we have now, we might have chosen to go to New York City, or somewhere else where there's actually a pennant race going on, but Denver was our choice last year as it's one of the 10 ballparks we have yet to take in with some of our youngsters.
From what we gather, the views and sight lines at Coors Field are absolutely amazing, and some of the best in regards to major league ballparks. We will be back talking about what we saw a little later this weekend, but apparently you can see the game from just about anywhere on the first level (from the concourse that is). The above picture isn't current either, as there is a new Rooftop Deck in right field that takes up the entirety of what you see as the upper right field stands in the above picture. So that's new, and we'll be there first hand to check it out.
We're a bit excited as we have a limo picking us up at the airport on Friday, which is something that Eric (my travel partner) has never been in! So this is going to be a special treat for him.
The summer 2015 baseball trip is here!!